TREVOR GODDARD
A hoaxer to the end
published by GAE, November 2003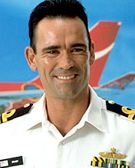 Newsletter 57 carried a brief article on 'Western Australian' actor Trevor Goddard, then living in Hollywood having made it into minor stardom. Sadly at the end of June Ian of Balcatta, our Australian co-ordinator, sent me another article from the West Australian announcing Trevor's death at his North Hollywood home on 7 June from a drug overdose. He was 37 and in the process of a divorce from his American wife Ruthann, by whom he had two sons, Travis aged 7 and Daniel 4. The article said that his father Eric and brother Frank still lived in Perth.
In fact, much of this is untrue. In the Australian Sunday Times for 13 July; the front page headline reads: "The Actor who Fooled Hollywood". Trevor' s father Eric, aged 71 and a retired Detective Chief Inspector in London's Metropolitan Police, and his mother Clara, who live at Bexhill-on-Sea in East Sussex - the other side of the world from Perth - wished to put the record straight so that his two young sons would not grow up believing their father to have been a juvenile delinquent from Australia who had been born there in 1966.
Eric drew stunned gasps from some 400 people when he spoke in Hollywood at a service in celebration of his son's life. Trevor, he told them, had actually been born in Croydon, Surrey, in 1962 and grew up with his sister Sarah in Bromley in Kent; he was a landscape gardener there before going to America to seek his fortune. But in his early days as an actor he enjoyed no success when he presented himself as an Englishman at auditions. Hearing that an Australian was wanted for a particular part, he decided to pass himself off as one. As his father said: "We all know how good an actor he was. His charm, personality and good looks made success inevitable When an Australian was required for JAG, he became one. He convinced everyone he was Australian, including the Australians. Perth became his second birthplace. In truth, he liked it there and told us they were his kind of people and he wanted to retire there." Trevor had, in fact, holidayed there several times over the past fifteen years, which enabled him to embellish the 'lie' a little more every time he was interviewed.
Ironically, in his last appearance in JAG in 2001, when he was written out of the series, the script required him to put on an English accent. "It was the only time he spoke as him- self", his father said. In all he appeared in some twenty films such as Mortal Combat, Gone in 60 Seconds, Dead Man's Run and, most recently, Pirates of the Caribbean. It was on the set of this last that he suffered an injured ankle and torn leg ligaments for which he had been prescribed painkillers. "If he died as a result of drugs," his father said, then it's the result of an accident. My birthday was June 6 and at midday, their time, Trevor rang and sang Happy Birthday to me. He was as happy as a sandboy and said we had years together yet, but we didn't even have 24 hours."