THE LAWN
the Manor House in Swindon
published by GAE, January 1999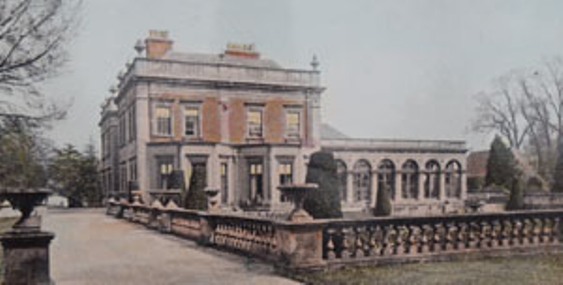 I am grateful to Jean Cole for an article from the Swindon Evening Advertiser of 4 July 1998 on The Lawn, the manor house of the Goddards of Swindon, under the title of 'The House that Faded and Died'.
"The remains of an elegant Italian garden and part of an ornate stone wall are the only clues left to Swindon's forgotten manor house which stood on the Lawn for two centuries. The Lawn estate was home to Swindon's Lords of the Manor, the Goddards, until the late 1920s. It fell into disrepair following the death of Major Fitzroy Pleydell Goddard in 1927, and brief war service followed before its eventual demolition in 1952. Today two stone columns where the entrance once stood near Charlotte Mews also offer a hint of the former glory.
The house and its grounds were cared for by an army of servants, kitchen maids and gardeners. Coachmen, dressed in traditional Regency attire, continued to drive the horse-drawn family coach in timeless fashion well into the twentieth century.
The house was built in 1770 on the site of a previous medieval manor, and was known as Swindon House until early last century. It stood next to the old Holy Rood Church, which for centuries served as the main place of worship in Swindon. Surviving photographic evidence from the late Victorian and Edwardian era hauntingly capture the lost days of elegance.
During the late 1800s Swindon's Lord of the Manor was Ambrose Lethbridge Goddard who represented Cricklade as an MP for 27 years. The family connection ended four years after the death of the MP's son, Major Goddard, who was once High Sheriff of Wiltshire. His death at 10am on 12 August 1927 was announced that day in the Evening Advertiser. Major Goddard, who died at the age of 75, was the town's largest landowner. It was said Swindon owed him a great debt of thanks for providing land for the Town Gardens, the County Ground and Victoria Hospital. The former messenger to Queen Victoria, county councillor and diplomat was also the man responsible for giving Swindon its gold mayoral chain.